How to Design and Sew an Easy Tzanua Modest Skirt
by Mrs. Moriya Chesler
Measurements
To make our easy tzanua skirt, you need to take 2 measurements:
Your waist girth – take a measuring tape and measure around your natural waist at your normal relaxed position.
Your skirt length – have someone (your mother, sister, girl friend) measure from your natural waist down to below your knee cap.  Add to that the minimal 4-in to get your skirt length.  If your community only wears ankle-length skirts, than you measure up to your ankle to get the skirt length.  If your community requires midi-length skirt as a tznius standard, then take an additional measurement of your calf length (between your knee and ankle).  Half that calf length and add that to your waist-to-knee measurement to get a midi (mid-calf) length skirt.
A common question about measuring waist girth is how to locate your natural waist.  When you bend your torso to the side at the waist, your natural waist is located at that bent.
Drafting Supplies
You will need the following supplies to draft your skirt pattern:
yard stick
pencil
eraser
large paper roll or you can tape smaller pieces together
calculator or your wonderful brain (Baruch Hashem)
Sewing Supplies
You will need the following supplies to sew your skirt:
skirt pattern
iron and ironing board
sewing machine / your hand
fabric (see below to determine how much)
No-roll elastic (1-in wide preferable)
matching thread
scissors
Skirt Pattern Drafting
The above is a quarter skirt pattern that you can use.  It is a rectangular piece made up of your skirt width, seam allowance, casing, skirt length and hem allowance.
You will need two pieces of fabric for this pattern option.  When you unfold the fabric after it has been cut, you will find its width is half a pattern width.  Since there are two pieces, the total pattern width is doubled to match the full skirt width.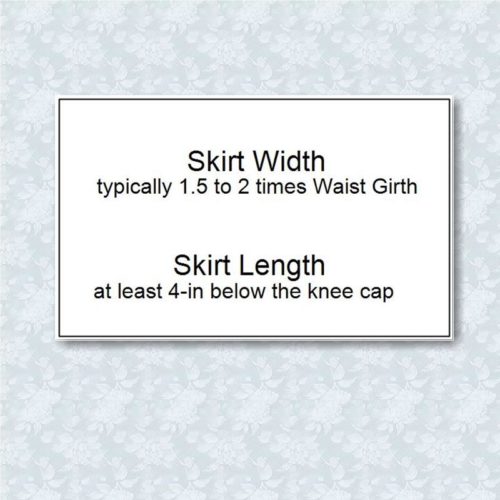 To make this skirt, the actual skirt width is your choice of 1.5 to 2 times your natural waist girth.  If your waist girth is 24-in, for example, and you multiply it by 2, you will get 48-in.  Quarter the skirt width to get 12-in.  That's your quarter-skirt width.
Seam Allowance
A seam is a stitching line that holds two (or more) layers of fabric together.  A seam allowance is the width between the stitching line and the edge of the layers of fabric.
What is the number I should use for the Seam Allowance?  That depends on where you live.  In the USA, a common seam allowance is 5/8-in or 1/2-in.  In Israel, Europe and other countries, it is in metric (mm) and that value varies.  You can use a rough metric equivalent  of 5/8-in which is 16-mm (1.6-cm) for this lesson.
Casing
A casing in this lesson is for housing an elastic waistband for your skirt.  Since this is a very easy skirt pattern, we use an elastic waistband.  An ideal width for this elastic waistband is 1-in.  For tznius reasons, we avoid overly wide waistbands.
As you can see in the diagram above, the casing is made up of two parts:
foldover allowance – choose between 1/4-in or 1/2-in
top and bottom waistband allowance – elastic band width (1-in preferable) plus 1/4-in or 3/8-in allowance
Casing = Foldover Allowance + 2 times Waistband Allowance
For example, if we use a foldover allowance of 1/2-in, an elastic band of 1-in wide plus 1/-4-in allowance, the casing width will be 1/2 + 2 1/2 = 3-in.
Hem
The Hem Allowance is also made up of two parts:
foldover allowance – choose between 1/4-in or 1/2-in
hem allowance – if you are a growing girl, choose 2-in so that you can drop the hemline when the skirt gets shorter on you in the near future, otherwise choose a 1-in hem.
Hem = Foldover Allowance + Hem Allowance
For example, if we use a foldover allowance of 1/2-in and a hem allowance of 2-in, then the total hem will be 2 1/2-in.
After you've computed your Hem and Casing, you can plug the values into the Pattern Length formula here.
Pattern Length = Skirt Length + Casing + Hem
For example, if our modest skirt length is 24-in, casing is 3-in and hem is 2 1/2-in, then our total pattern length will be 24 + 3 + 2 1/2 = 29 1/2-in.
Fabric Layout
A typical layout of your quarter skirt-width pattern on fabric depends on the width of the fabric.  Fabric comes in common widths of 44, 45, 58, 60 inches in the USA.  It will be slightly different in countries using the metric system.
If you choose a 44-in wide fabric, your pattern layout may look like this with one fold of fabric.
If you choose a wider fabric (e.g. 58 or 60-in), you may be able to fit two patterns on two folds of fabric, depending on your pattern width.
You may notice a bright red arrowed line in the diagram.  That is called the Grain Line or Straight of Goods (an ancient term).   Fabric is woven with horizontal (crosswise grain) and vertical threads (lengthwise grain).   The  lengthwise grain lines are parallel to the sides called selvages, i.e. edges that do not fray (unravel).   Fabric drapes differently and this affects how a garment drapes or hangs on the wearer.  A garment whose grain line is parallel to the fabric's lengthwise grain will drape better than a garment whose grain line is at the fabric's crosswise grain.
Fabric Yardage
After we have computed the pattern length and fabric layout, we can use one of these formulae to compute our fabric yardage.
For a 44-in wide fabric with one fold on the fabric, our formula is as follows.
Fabric Length (yard) = 2 * Pattern Length (inches) / 36
or
Fabric Length (m) = 2 * Pattern Length (cm) / 100
For example, if our pattern length is 29 1/2-in, then we need (2 * 29 1/2)/36 = 1 yard 23 in, slightly under 2 yards of fabric.
For a wider 58-in fabric with two  folds on the fabric, our formula is as follows.
Fabric Length (yard) = Pattern Length (inches) / 36
or
Fabric Length (m) = Pattern Length (cm) / 100
For example, if our pattern length is 29 1/2-in, then we need  under 1 yard of fabric.
Fabric Choices
Before you sew your pattern on the final fabric, it is advisable to first sew it on a test fabric, called a muslin. Muslin is made of 100% cotton and very easy to manage.  It comes in a few standard colors – white or off-white.
For your choice of final fabric, I recommend using a woven fabric in either 100% cotton or a mix of cotton-polyester, as these fabrics are easier to sew for beginners.  Solid color fabric or allover calico print fabric is preferable.  Avoid plaids and stripes for now.  Calico fabric has print on the right side and a solid color on the wrong side.
Sewing the Skirt
After you have the fabric that you need to make one skirt based on the skirt pattern you decided above, you are ready to lay out the pattern on the fabric and cut the fabric piece(s).
The instructions are pretty easy to follow.  For all skirt pattern options, you need to zigzag the edges of the skirt length to prevent them from fraying.   Just follow the numbering and instructions on the diagrams.
 Models
I have made sample skirts for little Yehudis here, who is enjoying her Yehudis magazine.
Skirt Embellishment Options
The model skirts were made using different skirt width options (1.5 to 2 times the waist girth) and embellished differently.  You can add trimmings to a solid-color skirt such ricrac, pearl trimmings, ribbons and appliques.  You can also add pockets if you know how.  For tznius reasons, placement of pockets are restricted to certain areas.  We can cover that in another posting.
You can also add a nice lace overlay to your skirt. After you have developed confidence in sewing this skirt, you can purchase lace material that has a scallop edge and sew it together with a matching skirt lining.  If there is much interest, we can cover how to line a skirt in another post.  Your comment below will influence future posts.
There is a variation to the skirt casing that you can do, called Paperbag Waist, named after a paper bag that is tied at the top with ruffle-like flap at the top.  If there is interest (your comment below helps), I can show you a modified design of the casing.
You can use this skirt pattern to make an underskirt or half-slip to wear underneath your outer skirt.  Use batiste fabric for making under garments.
---
Mrs. Moriya Chesler's work can be found on JoyOfTznius.com, KosherPatterns.com and ModestAnytime.com.
Save
Save

Mrs. Chesler is passionate about the mitzvah of tznius and offers modest and kosher sewing patterns for the general public.

Latest posts by Mrs. Moriya Chesler (see all)
(Visited 274 times, 1 visits today)