Introducing the Kosher Shell
Be'ezras Hashem, it is time to introduce the kosher shell.  The kosher shell is unlike the popular tight clingy shell that you see today.  The kosher shell is a proper, modestly designed blouse that can be worn as an outer garment as well as paired with a jumper or formal suit.
Fabric
The difference is in the material that is used to make this kosher shell.  I have chosen quality woven fabrics over cheap spandex/lycra/elastane jersey knits.  Knit fabrics have an appearance of overly casual, while fine woven fabrics do not.  With woven fabrics, the kosher shell can be worn in a formal or casual setting.
Garment Opening
The kosher shell has a back hidden short zipper.  Unlike the contemporary shell, the kosher shell's neckline will not stretch over time because of the zipper opening.  The kosher shell also has a narrow band collar to provide an extra 1-inch coverage above the neckline to ensure that the neckline stays kosher.
Colors
The kosher shell is currently available in seven earth-tone colors and are easily paired with many types of garments.
Modest Fit
Unlike the contemporary shell, the kosher shell is designed to have a modest fit: ample ease at the chest, waist, hip areas and sleeves.  As a result, one can wear the kosher shell as an outer garment with dignity without sacrificing one's feminine charms.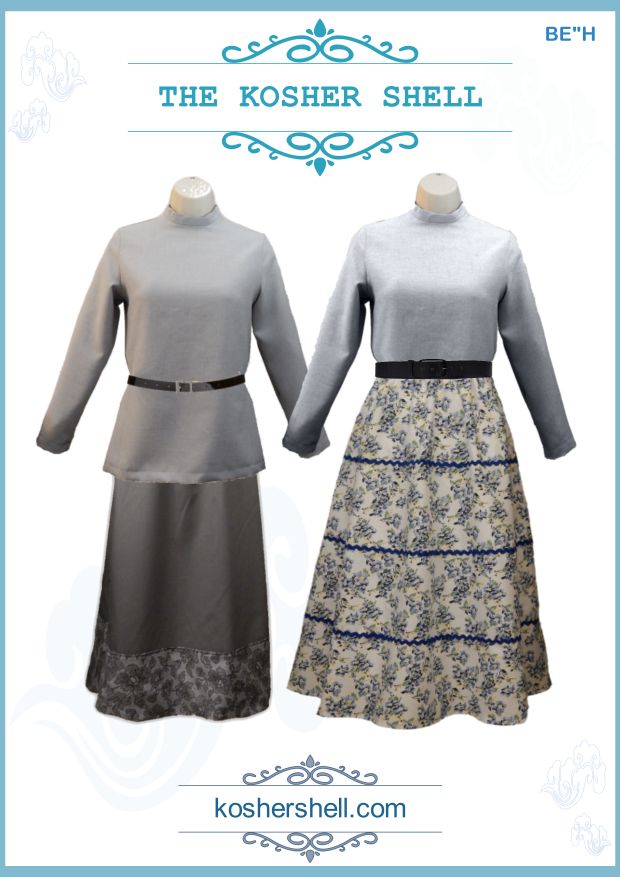 Price is Right
The kosher shell is currently on sale for an indefinite time.  There is no hurry to order it now, wait until after Tisha B'Av as one is not supposed to purchase any new garment during the Nine Days.  In order to get the best value for this price, I encourage you to learn how to take your custom measurements to ensure the best fit.  Read this article on why custom-made is better for tznius. To take advantage of this price, visit KosherShell.com.
Save
Save
Save
Save
Save
Save
Save
Save
Save

Mrs. Chesler is passionate about the mitzvah of tznius and offers modest and kosher sewing patterns for the general public.

Latest posts by Mrs. Moriya Chesler (see all)
(Visited 220 times, 1 visits today)